Am 19. Juni 2020 erscheint nun endlich das lang erwartete The Last of Us 2 in fünf verschiedenen Versionen. In der collector's edition bekommt ihr z.B. eine Ellie-Statue und in der Ellie Edition bekommt ihr sogar einen limitierten Rucksack obendrauf. Hier bekommt ihr nun alle Editionen aufgelistet inkl. deren Inhalt.
Derzeit könnt ihr bei Amazon lediglich die Standard- sowie die Special-Edition von "The Last of Us 2" vorbestellen. Die anderen Fassungen lassen sich derzeit leider nicht vorbestellen.
Standard Edition
Digital Deluxe Edition
Special Edition
Collector's Edition
Ellie Edition
Nachfolgende haben wir euch alle verschiedenen Editionen zu "The Last of Us 2" samt aller Inhalte aufgelistet:
Standard Edition zu The Last of Us 2
Vollversion des Spiels
Vorbesteller der physischen Version erhalten mehr Tragekapazität für Munition und ein Crafting Training Manual
Vorbesteller der digitalen Version erhalten ein psn Avatar mit dem Motiv von Ellies Tattoo
Digital Deluxe Edition zu The Last of Us 2
Digitale Standard Edition
digitale Inhalte wie ein dynamisches Design für playstation 4, ein Set aus PSN-Avataren, einen digitalen Soundtrack sowie die digitale Version eines Mini-Artbooks.
Digital Deluxe Edition vorbestellen
Special Edition zu The Last of Us 2
Spiel im Steelbook
Mini-Artbook (Dark Horse) mit 48 Seiten
Dynamisches ps4-design
6 PSN-Avatare
Vorbesteller erhalten mehr Tragekapazität für Munition und ein Crafting Training Manual
Collector's Edition zu The Last of Us 2
Spiel im Steelbook
30 cm große Ellie-Statue
Mini-Artbook mit 48 Seiten (als Buch und digital)
Dynamisches PS4-Design
Lithografie und Dankesschreiben
6 Pins
digitaler Soundtrack
Ellies Armband
6 PSN-Avatare
Vorbesteller erhalten mehr Tragekapazität für Munition und ein Crafting Training Manual
Collector's Edition vorbestellen
Ellie Edition zu The Last of Us 2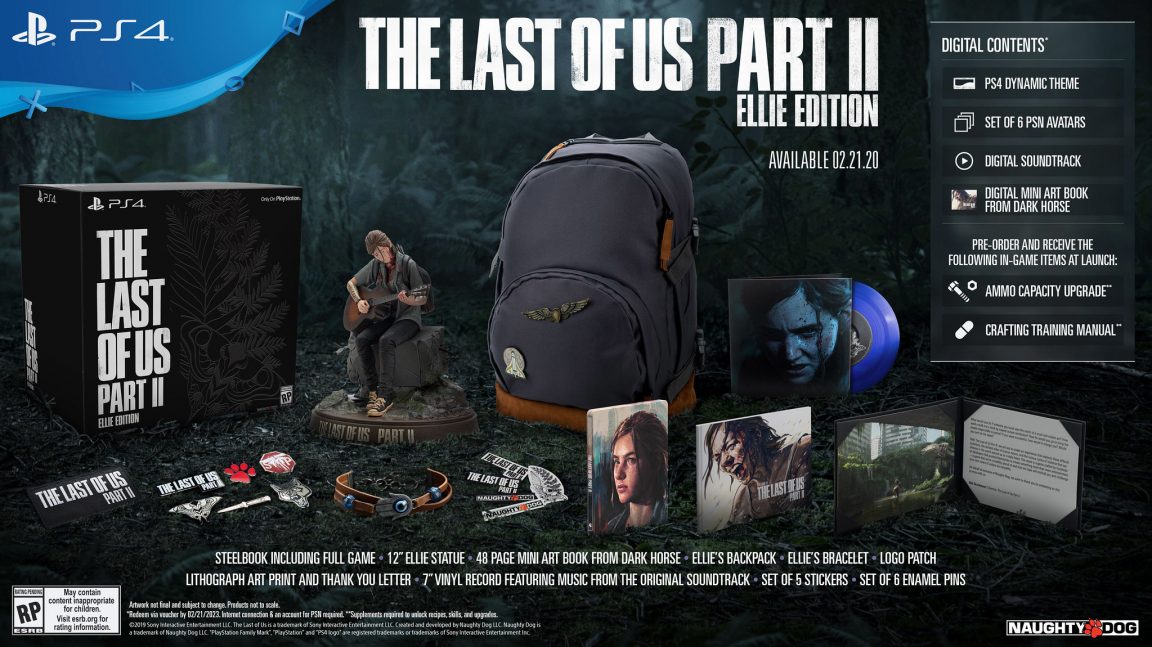 Spiel im Steelbook
Ellies Rucksack
30 cm große Ellie-Statue
Logo-Aufnäher
Soundtrack auf Vinyl
Mini-Artbook mit 48 Seiten (als Buch und digital)
Dynamisches PS4-Design
Lithografie und Dankesschreiben
6 Pins
digitaler Soundtrack
Ellies Armband
6 PSN-Avatare
Vorbesteller erhalten mehr Tragekapazität für Munition und ein Crafting Training Manual
Vorbesteller jeglicher Editionen erhalten zum Erscheinen der Vollversion die folgenden digitalen Vorbesteller-Boni:
Munitionskapazität-Verbesserung für Ellies Pistole zu Beginn des Spiels
Fertigungshandbuch, das bereits zu Spielbeginn Zugriff auf neue Rezepte und Verbesserungen gewährt
Vorbesteller der Standard oder Digital Deluxe Edition im PlayStation Store erhalten zudem einen PSN-Avatar, der Ellies Tattoo abbildet